18 Nov

It Was Time
For most of my career, I have struggled with being a bit of a control freak (insert laughter here at the "bit of" from everyone who has ever worked with me). Not sure where I learned it.
It might be because I felt so much was out of my control being the youngest and only girl with four brothers. If I could control something, I was damn well going to control it.
Not a solid strategy in developing teams. I learned this early, and I remain in a life-long learning curve about how to let go. I've done better at that in the past year then ever in my life, and this past weekend, was a big milestone. More on that in a moment.
Why is it important we talk about letting go of control? Frankly, because who wants to work with someone who isn't looking out for their team's growth as well as their own? It's the difference between being a leader and being a boss.
This past weekend we had one of our 3-day High5 Intensive classes, and I wasn't there. It was past time for me to let my team take a class on their own. It was easy to let them do it because I had complete trust they would create an awesome outcome. The hard part was in not being there creating that awesome with them.
And, if I don't step back to let them truly take the reigns, it limits the growth of High5 Leadership. It limits the number of people we can serve. And, it limits the trainers' growth, which, honestly, then limits the growth of those they are leading.
My friend, Lenny, sent me a text over the weekend telling me how proud he was of me for creating an organization that empowers others to do what they love. He also reminded me "If you are not making your key people part of your organization …they WILL leave (Physically and/or Mentally)!" It's the mentally part that is the scariest to any of us who lead teams. And, quite frankly, that's your team at home as well as your team at work.
I knew by the energy in the room when I walked into graduation that Team 1906 had gotten what they needed and more. I also saw a new level of confidence in the High5 trainers because they knew they had created that amazingness. My heart smiled, and I saw a bigger, brighter, more JOY-filled future for my world and THE world.
Where will YOU give up control so that others can grow?
I love my life! I am grateful beyond words for my team! We are #justgettingstarted!
Barb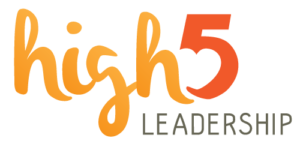 WANT TO EXPERIENCE MORE JOY IN YOUR LIFE, EITHER AT WORK OR AT HOME? Sign-up here for our 7-Day JoyRide Challenge to experience how you can turn around a sucky situation with just 10-15 minutes a day for seven days!
High5 Choices lead to High5 Moments to create your High5 Life!