07 Jan

Self-Reflection Is A Leader's #1 Tool
How much time do you spend reflecting on your choices, actions, thoughts and feelings? The amount of time you spend on these reflections has a direct correlation with the effectiveness of your leadership. The more self-aware you are, the more you are aware of those you lead. If you think you are completely self-aware, I can, with 100% certainty, tell you that you are not. Let's take a look in the mirror.
What choices did we make yesterday (And, yes, this is as much for me as it is for you)? Did those choices benefit us? Did they benefit others? What went well that we want to do again? What didn't go so well? What did we learn? How can we apply it? Did we see something in somebody else that we should look for in ourselves (Oh, that's such a good one!)?
Let's be honest. Most of us don't love looking in the mirror because it's uncomfortable to realize that we don't have it all figured out. We make choices that set us back. We aren't always kind (likely towards ourselves). We literally waste hours doing nothing because we let fear win. It's easier to convince ourselves that we are super positive, and we are giving our all, if we never look in the mirror.
I have several friends, and myself, who really thought we were really positive people. It wasn't until we were in a situation where we were surrounded with truly positive people that we realized we were just the most positive of the negative people we hung out with. We call that a false positive. What about you? Are you hanging out with negative people? If you are, you're probably negative too.
Check your thoughts and actions. Are you talking about others and tearing them down? Are you complaining about things but are unwilling to take action to change them? Are you comparing yourself to others so you feel better about yourself?
What would be possible if you took time EVERY DAY (that's the way it becomes a new habit) to reflect on what you can learn? This is not about beating yourself up if you didn't make the positive choice. What we know is that anytime negative shows up, positive is available. So what's the positive you can take from the situation (any situation)? What will be different next time? Celebrate the learning! Celebrate the self-awareness because that's what will lead you to a much greater level of success in all areas of your life.
If you want something more in your life, it will require you to DO more in your life. The more self-aware you become, the quicker the transformation happens. The mirror has the potential to be your best friend if you choose to see it that way!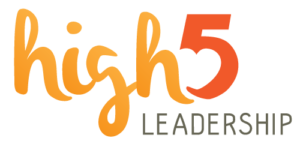 LET US HELP YOU BE SUCCESSFUL! DOWNLOAD OUR 30-DAY OUTCOMES JOURNAL FOR FREE!
In addition to helping you stay focused on your outcomes, this tool has a place for daily self-reflection because we know how critical that is to your growth. Normally you would have to attend one of our classes to get it, however, it's our gift to you to help you get the things you want in your life.
High5 Choices lead to High5 Moments to create your High5 Life!
Let me know how you are using your journal or if you have any questions – barb@high5leadership.com.